Joannes is unavailable till the end of June 2022
Joannes Boele van Hensbroek
Acupuncturist MNZRA, Physiotherapist BSc,
MPNZ, Massage Therapist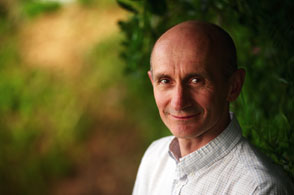 Born in Rotterdam in the Netherlands in 1960, Joannes attended the Steiner school and grew up with homeopathy. Thus began his life long interest and passion for holistic medicine and treatment.
Joannes qualified as a Physiotherapist and Masseur in the Netherlands in 1984 after five years of study. And after travelling extensively and working as a Physiotherapist in Holland, UK, Seattle USA and New Zealand, he finally settled here in 1988. Attending his first acupuncture course in 1990 as part of the Physiotherapy Acupuncture subgroup of the Society of Physiotherapy, Joannes became passionate about our this form of treatment could be so effective in pain management. At that time, since there was no acupuncture schools in New Zealand, Joannes took private tuition for one year before he travelled to the UK to study full time for four years at the International College of Oriental Medicine, East Grindstead.
After qualifying in 1996, Joannes returned to New Zealand and has been operating his very successful private practice ever since, with clinics in Plimmerton and Wellington. Joannes has successfully combined his knowledge of traditional Chinese medicine with gentle mobilisation techniques to treat a wide variety of problems such as chronic pain, sports injuries, back and neck problems, headaches, sinus problems, etc.
Sport has always been an important part of his life with Joannes having played for the Dutch National Hockey team in his younger life. This began his interest is sports injuries and pain management and he has treated many top athletes in a wide variety of sports including triathlon, hockey, running, rugby, weight lifters as well as dancers from the Royal New Zealand Ballet.
As well as treating sports injuries Joannes also works with people to manage their stress, anxiety, chronic pain and broader and general health problems such as low immunity. One of the key aspects of Joannes treatment is helping people to get healthier and/or losing weight. Generally, Joannes believes most people are not sick but they're not healthy either. They simply need help in understanding where their weaknesses are so they can commence improving their health.
Teaching
Joannes is a natural teacher and enjoys sharing his knowledge with other practitioners. He has taught at the New Zealand School of Acupuncture and the New Zealand College of Massage and since 1991, has been teaching a variety of courses about the integration of Chinese medicine with Western medicine techniques. He has attended a multitude of courses, and even studied in China with Dr Wang, who is the Co -Author of the book, "Applied Channel Theory in Chinese Medicine".
Joannes currently teaches the very successful Pain Management courses for Professionals.